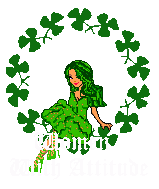 May your blessings outnumber the Shamrocks that grow...
and may trouble avoid you wherever you go.
~ Old Blessing of Eire ~

Welcome to our St. Patrick's Day Celebration!!!
We had hoped to share our Pot 'o Gold with you, but some naughty leprechauns have run of with it!! They left a trail though and some limericks for us to solve and reclaim our Pot 'o Gold...
Will you help us outwit these leprechauns??
Here are the names of the paths they took when they escaped with our treasure... each day they have promised us one limerick and if we are smart enough to solve them we will find our Pot 'o Gold and can share with all of you!
Take a look at the limerick, and choose a path to follow. Try and find the graphic the leprechaun left in its haste to run away! There are 6 graphics to find altogether. We must hurry! We need our Pot 'o Gold for St. Patrick's Day!!!
If you manage to find all 6 graphics, email us with the URL for each graphic, and the Limerick that led you there, and when we reclaim our treasure we will share it with you, and your name will be added to our Hall of Fame!!

Here are the paths we know the Leprechauns took:

Limerick #1
Travel the universe with Doctor Who
Find a place of friends times two
There on the green
Can plainly be seen
A surprise that's waiting for you.



Limerick #2
A mystical place of word and rhyme
Of skulls and roses captured through time
Through bits of green adorning this page
Sounds the voice of Glenn the Sage:
C'mon take it, ain't no crime!



Limerick #3
If your looking for Irish Fun tonight
Please take note of this particular site,
With goodies to cook up, you cant ignore
I have something hidden if you care to explore
It may be what you want, there's nothing to fear
But on this page you'll find no Green Beer

Limerick #4
In a place where tigers roar,
Where wild parrots majestically soar,
A bit 'o Irish can be found.
Closing in, treasure bound.
Grab it, hold it, evermore


Limerick: #5
All about the best job of all
With one grownup the other still small
Leprechauns have come this way
We know not how long was their stay
With links galore they surely had a ball!

Limerick #6:
Just one more item to find
And it really must be the right kind
Tutorials the page,
In its really young stage,
Its here, and I hope you don't mind.

Once you have traveled all 6 paths and found all 6 clues, please email us with the URLs where you found the clues and once we have our Pot 'o Gold we will send you your share!!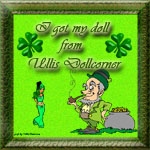 Background Set Created for
Women With Attitude Festivities Team
Do Not Take
Page Created 03/05/01