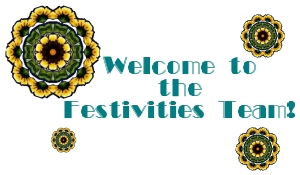 The aim of this Team is to help members of Women With Attitude celebrate holidays and observances throughout the year, and have lots of fun! :)
We provide members with activities and information about current holidays.

Thanks for your interest! Either Denise or Grace will be in touch with you soon!

Our Pages:
::Members::
::Holidays Throughout the World::
::Holiday Links::
::Suggestion Box::
::Join The Team::
::2001 View the old Celebrations list here::



© 2001 and beyond
Denise Groom
No unauthorised duplication permitted
All rights reserved